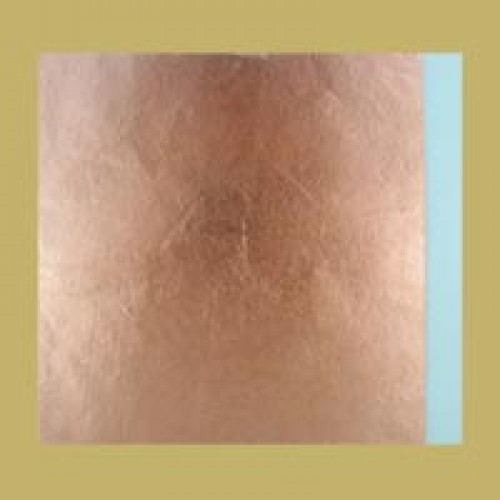 Copper leaf transfer booklet
Copper leaf is our brand of high-quality leaf manufactured specifically in the colours and weights that are standard in the industry. Different varieties of leaf, including different colours and metals, are packaged in books of 25 leaves each. This leaf is produced using the latest technology and respected traditions of the gold beating craft.
The copper alloy in metal leaf will tarnish, therefore all metal leaf must be sealed to prevent tarnishing, except aluminium leaf. It is best to wear gloves when handling metal leaf to avoid leaving finger prints and other residues that may cause the leaf to discolour under the sealer.

A book of transfer (waxed paper) composition leaf is assembled by placing each unit of composition leaf between sheets of thin rouged paper. The gilder can then remove one leaf at a time without disturbing the remaining leaves. It is removed from the book by grabbing the waxed paper by the protruding end.
Metal leaf
Brand
The Gold leaf Factory International
Dimensions
140 x 140 mm (5.5" x 5.5")
Quantity
25 leaves
Coverage
51 sheets per square meter without overlap (10.7 sq. ft.)
Thickness
Approximately 0.3 microns
Composition
100% Copper
Copper leaf transfer booklet