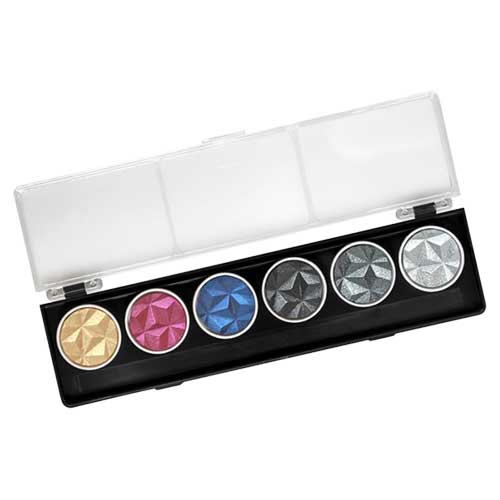 Finetec watercolor set, with 6 pearlescent Galaxy colors
Let us take you on a journey through the galaxy with our extraordinary "Pearlcolours Galaxy" special edition!
The trip starts during the first Sunbeams, goes past a Supernova and directly into Deep Space. You pass a mystical Dark Star and just barely escape a passing Meteor to bathe peacefully in the Moonlight upon your arrival. What a journey!
We have put a lot of effort into the design of the unique surface for this set
Contains the following non-replaceable colours:
• Sunbeam (Transparent Glittering Gold -- mix with lots of water)
• Supernova (Bright Pink)
• Deep Space (Nice, matte Deep Blue)
• Dark Star (Sparkling Black)
• Meteor (Glittering Gray -- mix with lots of water)
• Moonlight (Metallic Light Grey)

Handmade in Germany by Finetec GmbH

Finetec GmbH in Germany produces high-quality Pearl colours since 2005. Pearl colours can be dissolved with water and applied with a brush. They are perfect for creating special effects and highlights, they are also ideally suited for calligraphy.

Shimmer-Pearl colours are difficult to see on white paper – but on dark paper, they almost magically appear in the brightest colours. Shimmer-Pearl colours are also perfect for adding amazing highlights to your paintings.

Our tip: for the perfect colour result we recommend putting a few drops of water on the colour pan and letting it sit for a few minutes before using the colour.
Finetec watercolor set, with 6 pearlescent Galaxy colors