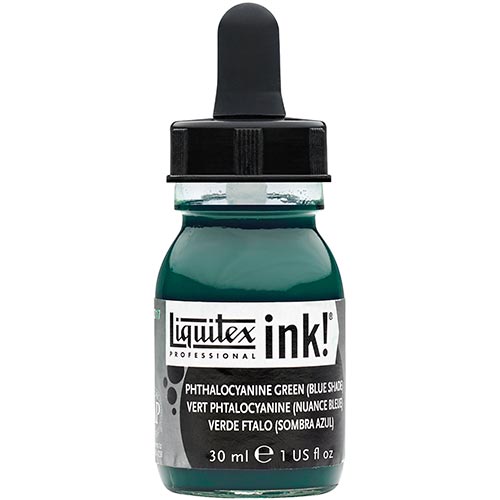 Liquitex Ink Phthalocyanine Green (Blue Shade) 30ml
Liquitex Professional Acrylic Ink! is a range of extremely fluid acrylic paints that use super-fine pigments in a state-of-the-art acrylic emulsion. They dry quickly, are permanent, water resistant and non-clogging, which makes them ideal for a variety of techniques from water-colour effects to stamping.
30 professional colours
Intense bold lightfast colours
Extremely fluid, no need to dilute for airbrushing or calligraphy
Superior water resistance
Non-clogging
Fast drying
Ideal for water-colour effects, colour blocking and under painting
Intermixable with all other Liquitex acrylics and mediums
A balanced colour line of opaque and transparent colours

USES AND TECHNIQUES
Dip Pen, Brushes, Technical Pen, Stamping, Ink Brayer, Screen Printing, Fabric Painting, Book Arts, Calligraphy, Stippling, Photo Tinting, Airbrush, Dry brush, Stencilling, Pouring, Water-colour, Collage, Drafting.
Found this product cheaper from another Australian retailer? We'll beat it by 5%
* Competitor's price must include GST.
* Competitor's price must not be below our purchase price (loss-leading).
* Competitor's offer must be verifiable by us.
* Excludes trade and special quotes, stock liquidations and commercial quantities.
Liquitex Ink Phthalocyanine Green (Blue Shade) 30ml