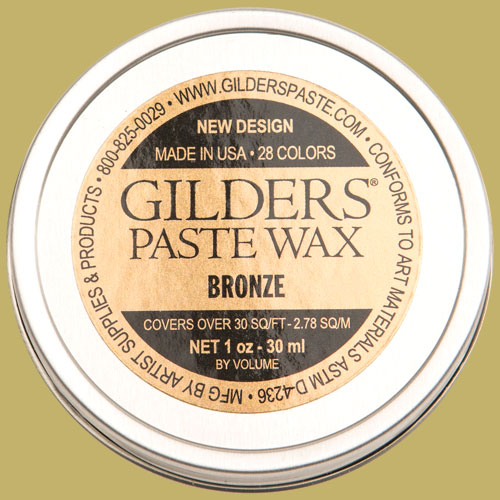 Bronze 30ml
GILDERS™ paste wax offers a collection of various waxes, resins and high concentrations of pigments, with enhanced tint retention and hiding ability for coloring and highlighting interior and exterior applications.
Use GILDERS™ paste wax On:
Apply GILDERS™ paste wax :
With finger, sponge, toothbrush, paintbrush or cloth in a rubbing motion or use other creative mediums to produce a unique finish.
Layered on top of one another or mixed to create different finishes or an endless color palette.
Thin out with paint thinner to transform the highly concentrated GILDERS™ paste wax for brushing, sponging, staining, washing or spray painting.
Drying time varies depending on substrate and surface preparation, approximately 60 minutes to the touch on dry debris free surfaces and 12 hours for complete cure time. If polishing or burnishing is required allow 12 hours drying time.
Polishing the metallic GILDERS™ paste wax with a soft cloth will produce a gilded finish substituting gold, silver, bronze leaf; nonmetallic pastes will be shiny. If left unpolished the finish will be semi-gloss or matte depending on the color.
A little GILDERS™ paste wax goes a long way:
1 oz (30 ml by volume) container covers over 30 square feet.
3.5 oz (100 ml by volume) container covers over 100 square feet.
Bronze 30ml