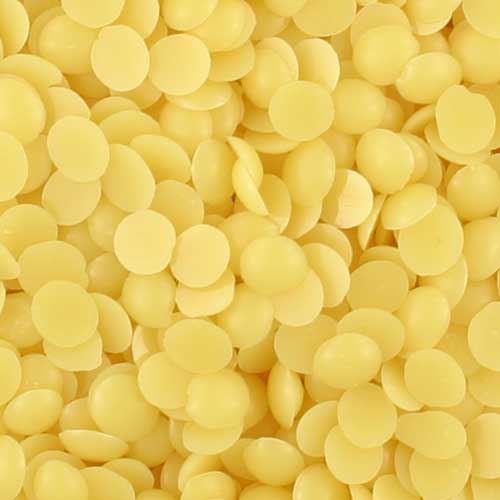 Candelilla Wax Pastilles 100 grams
Candelilla is obtained from the coating of the "wax slipper plant", Euphorbia Cerifera, found mainly in Northwestern Mexico and Southern Texas. The wax is extracted by boiling it and skimming off the resultant wax.
This unique vegetable wax helps provide gloss and lubricity (slip) to lip balms and lotion bars. Candelilla can be used as a substitute for beeswax or carnauba wax in food, pharmaceutical and cosmetic applications. It is a little softer than Carnauba Wax and is sometimes used to make candles and is also excellent in furniture polish. Use Candelilla Wax in lip balms, lipsticks, body butters, creams, lotions, varnish, glazing agent and other products.
If substituting Candelilla Wax for Beeswax in an existing recipe, reduce the amount of wax by half since as Candelilla Wax has twice the stiffening power of Beeswax.
Candelilla can also be used to help to thicken sugar scrubs - try using 2 grams of Candelilla Wax per 500g of Oil mixture. Simply melt the wax into the oils and then allow to cool. This thickened oil can then be added to the Sugar or Salt for the scrub.
Flash Point: 241°C

Melt Point: 68 - 72°C
CAS # 8006-44-8
EINECS #: 232-347-0
Grade: Pharmaceutical (BP)
E code: E902
* This product meets and exceeds food-grade requirements.
Suitable for Vegans
Other quantities available upon request!
Candelilla Wax Pastilles 100 grams