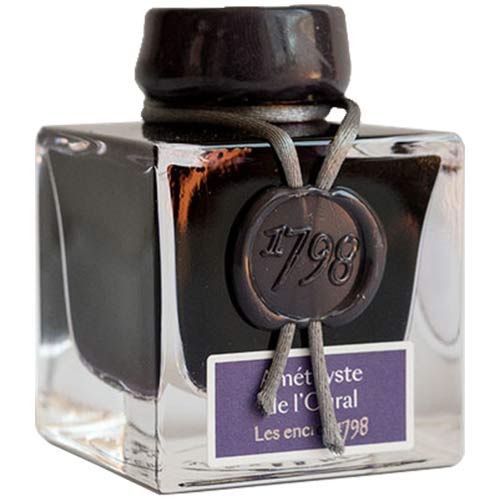 J. Herbin Amethyste de l'Oural 1798 Ink - 50mL
The first of the new Jacques Herbin 1798 Inks Collection, the Amethyste de l'Oural is a deep rich purple in the velvety hue of a rare gemstone. A silver mist provides a lustrous shimmering effect.
"Amethyste De L'Oural" suggests the color of royalty. This ancient gemstone from the gates of Asia was prized for its calming, meditative and lucid dreaming qualities.
The 50ml bottle is sealed with Herbin sealing wax and the colour of the wax is a good indication of the ink's colour. It is a fairly thick, with metallic particles sinking to the bottom of the bottle, so we recommend giving the bottle a quick swirl before filling.
Herbin is the oldest name in pen inks in the world, dating back to 1700 when Herbin opened a small boutique in Saint-Germain, Paris. These inks are among the best in the world. From Napoleon Bonaparte to Victor Hugo and Coco Chanel, Herbin inks and sealing waxes have been used by conquerors, novelists, designers and dignitaries for over 300 years. Today, their vibrant colours and long-lasting pigments ensure Herbin continues to be the foremost choice of ink for calligraphy writers and fountain pen users around the globe.
All Herbin inks are pH neutral and non-toxic. They are water-based and therefore will run if wetted. The inks are light fast and only natural dyes are used. We recommend high quality paper with Herbin Ink.
J. Herbin Amethyste de l'Oural 1798 Ink - 50mL