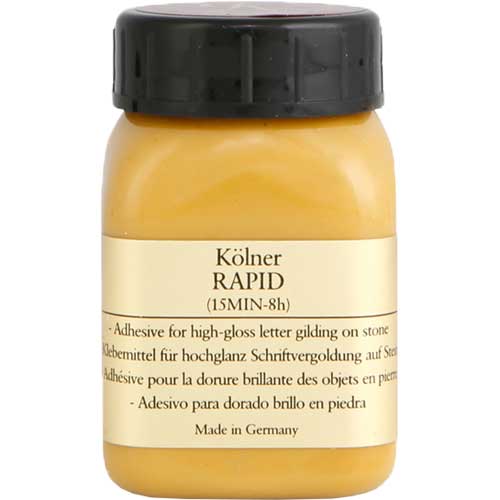 Kolner Rapid
Kölner Rapid is an adherent which is especially developed to gild chiseled or sand-blasted letters on stone as for example on monuments or tombstones. With Kölner Rapid restoration and reparation of gilding can be done fast, appropriate and on-site. Kölner Rapid must not be used for gilding on surfaces.
For the gilding of surfaces we suggest the Kölner Instacoll System. Kölner Rapid meets all requirements of permanent exterior gilding on stone. The product is water-based and easy and fast to process. The result is a high-quality and glossy gilding. Depending on the quality of the leaf gold and environmental effects, the gilding will last many years.
A gilding on a laying stone won't last as long as a gilding on a standing stone because rainwater will remain in the letters of the laying stone and increase the process of weathering.
Instructions can be downloaded from here
Kolner Rapid