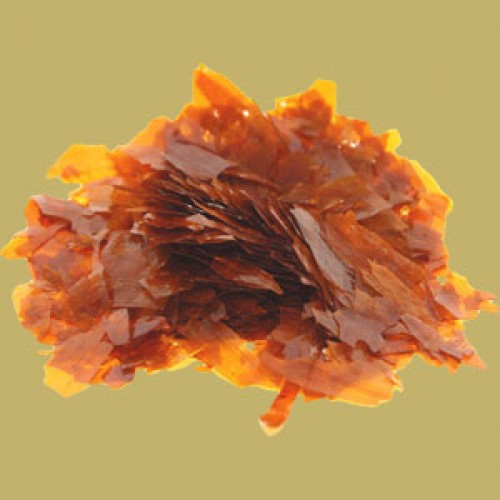 Lemon Shellac 250 grams
Shellac's great clarity, depth and shine make it one of the most beautiful finishes in woodwoking. The best way to stock the finish is in its dry state, where shelf life can be virtually unlimited. Four of the highly refined shellacs we carry are dewaxed, the professional's choice for fine finishes beneath other finishes. Mix your shellac with solvent alcohol & stir frequently until dissolved. Instructions are included. Garnet Shellac is a deep ruby/orange color, great for an antique look on cherry, mahogany and walnut. Seedlac's color falls midway between Garnet and Orange. It's a connoisseur's finish for violins and acoustic guitars. Orange shellac's amber tone complements any wood with natural reds, and warms blonde woods like old varnish. Lemon flakes produce a medium amber finish almost identical to Zinsser's Bullseye Amber--great for oak and other dark blond species. Buttonlac is just a little darker than Super Blond. Heat polymerization makes it very tough (though slower to dissolve); it's a favorite for French Polish. Super Blonde is very pale amber, barely enough to show on light wood. Ultra Blonde is the clearest unbleached shellac, and will alter wood's color less than almost any other finish. These shellac flakes produce a golden brown coloured French Polish which is often used in antique restoration or bespoke production of furniture.
250 grams of Shellac will make upto 1 litre of rich laquer.
Smaller quantities available upon request.
Lemon Shellac 250 grams