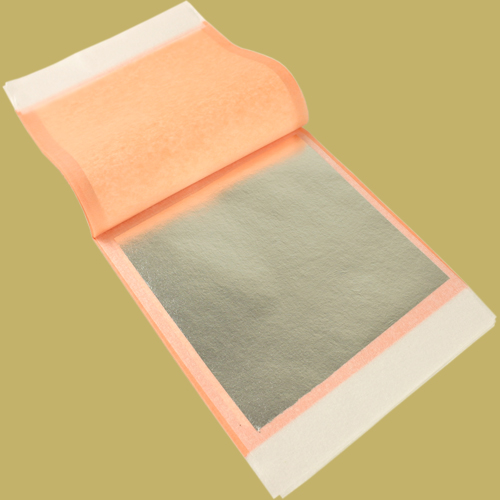 Edible Silver leaf Transfer leaf
Genuine edible Silver leaf (transfer) is an ideal way to add a touch of luxury to your desserts. It is commonly used with edible Gold leaf and is especially beautiful on dark surfaces. Each Silver leaf transfer is mounted by pressure to waxed paper. It can be easily cut with a scissors and used like a transfer picture with the Silver side upside down. The surface being applied to should be lightly sticky. The Silver leaf will stay on the waxed paper until it is pressed onto the prepared surface and the backing is removed. Great for flat surfaces. 
Packed in a booklet of 25 leaves, each Silver leaf measures to the standard European size of 95 x 95mm (3.74" square). Each leaf of Silver leaf is extremely thin and will easily disperse in the mouth with no lingering aftertaste.
When used as an additive to food, Silver is known as food colouring agent 174. This product should be used as selective decoration and not for daily consumption. 
This product is suitable for use on Varakh as no animal products are used in its manufacture.
Edible Silver leaf Transfer leaf